Time to continue the series of short stories by a ten year old girl and tell the process of compositing a short story. This time the idea evolved around going back in time to the world of pharaohs.
Her short story is as follows;
Get ready for a time past!

One historical day at the museum, there was something that caught my eye. Something that was a long time ago! The Egyptian pharaohs. It took a big piece of the wall just for the Egyptian pharaohs. I mean come on! But when I started reading the article that was when it got interesting, which made me want to go back in time.

I looked around the picture. It didn't say anything like don't touch it, so I just did a little gentle touch. But then it started to glow! And then I wasn't in the museum anymore. I was in Egypt…
How compositing a short story happened.
The original drawing had a girl amid the pharaohs. My idea evolved in having the girl moving from the outside of a picture to its inside. Somehow I had to create a 3D vision. I used an Egyptian wall painting and took a panorama shot of it. By dividing the canvas into equal thirds, I wrapped the picture in a way that the first and last thirds looked liked lateral walls of the second third. I added a solid colour adjustment layer underneath as the floor of the painting. To complete the painting I added a frame in similar colour and a grunge texture.
Compositing the main subject of the short story involved positioning the girl as if she was stepping inside something. Her clothes had to be neutral and preferably all in the same colour. We chose blue and even the shoes were blue. I positioned her into the picture and then corrected her colour. The part of her that was still in the real world stayed in blue and the other part inside the picture matched the colours or tones of the picture, more pale. Her shadow was done by using gradient overlay as effect and as a new layer. Wrapping and skill were applied when needed and opacity adjusted.
Here is what I have come up with!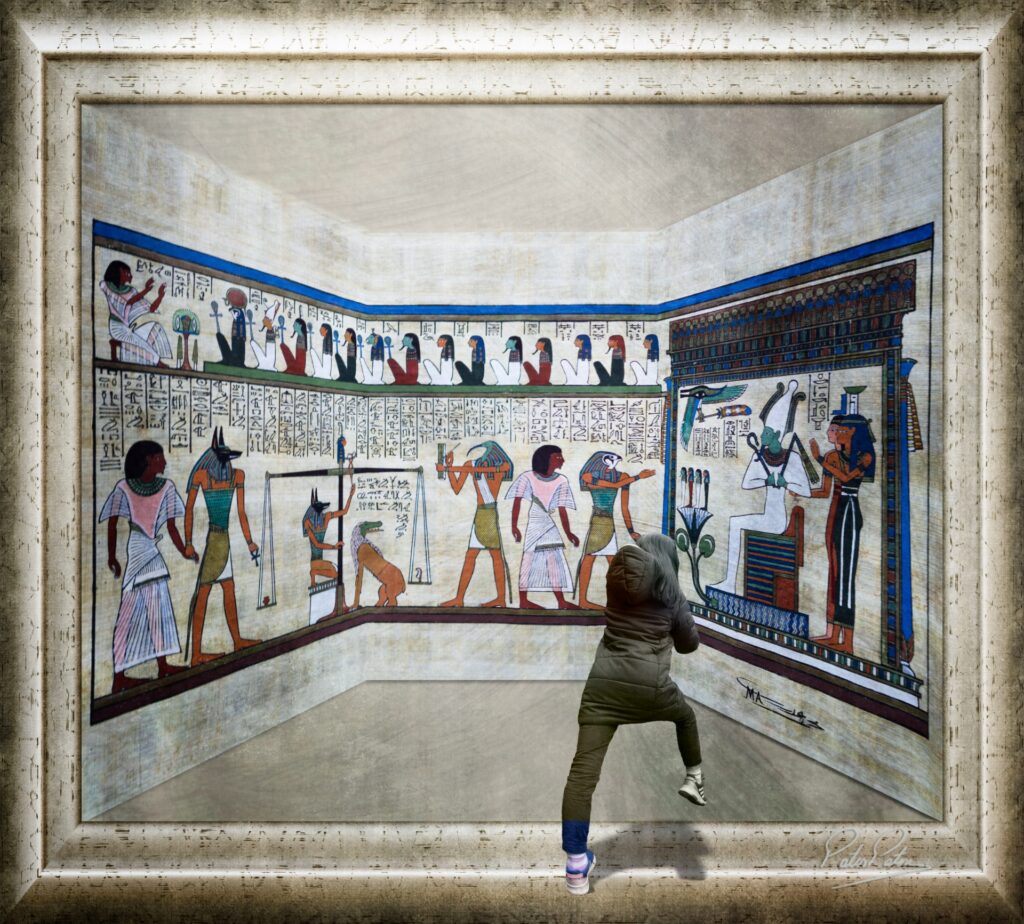 ---
---
You might also like
---