The last of the series of short stories by a ten years old girl involves compositing a mermaid into a short story. How can a young girl not love a mermaid?!
This time the title is The world I belong in and the story is as follows;
One day, a very sunny day, I was on the beach. I was just putting on my bikini for a swim. But just before I jumped in, I saw a sparkle in the ocean. I forced myself to take a look, so I jumped in. The sparkles appeared and disappeared. There were sparkles around me. When they were gone I saw a tail that was joined to me!! 'What was going on" I said with a scream. But it wasn't just a tail that had changed. It was my hair too. It was the colours, yellow, pink and blue. Also the ocean was beautiful. 'This is where I belong'!
Creating the composite with the mermaid.
The first step for compositing a mermaid into a short story was to have a portrait session with the main character. Several poses were chosen and the subject was using a bikini for such. Once the pose was chosen, the photograph taken, the compositing process started.
Mermaid's tail as part of the compositing process.
My first step was to add a mermaid tail and body into the subject. For such I had to match a colour. I created a new layer, set it to colour, then I sampled the colour I wanted. The brush opacity was changed several times and different regions of colours where sampled, so it could be more realistic. To copy a desired texture I created a new layer as luminosity and I used the clone tool. For applying the texture in different regions I used the lasso tool. I selected and masked with a high radius. Added the selection into a new layer and used the warp tool to fit it into the shape of the subject. The mask then was inverted and painted over with a lower opacity brush.
Environment of the composite.
For the environment where the mermaid would be, I chose a photo that I had taken from a big aquarium with some fishes in it. I positioned the subject accordingly and corrected its colour with the background by duplicating the background layer, blurring it, clipping it to the subject layer, setting it to colour and decreasing the opacity.
Sparkles as the last element of the composite.
For the mermaid's 'bubbles' I created a brush from different star and air brushes by adding them randomly in a white document. I then played with its shape dynamics, its size control that was changed to fade and finally with its spacing and scattering options. Once I created the sparkles, I duplicated its layer, added a gaussian blur and then an outer glow.
Here is the result!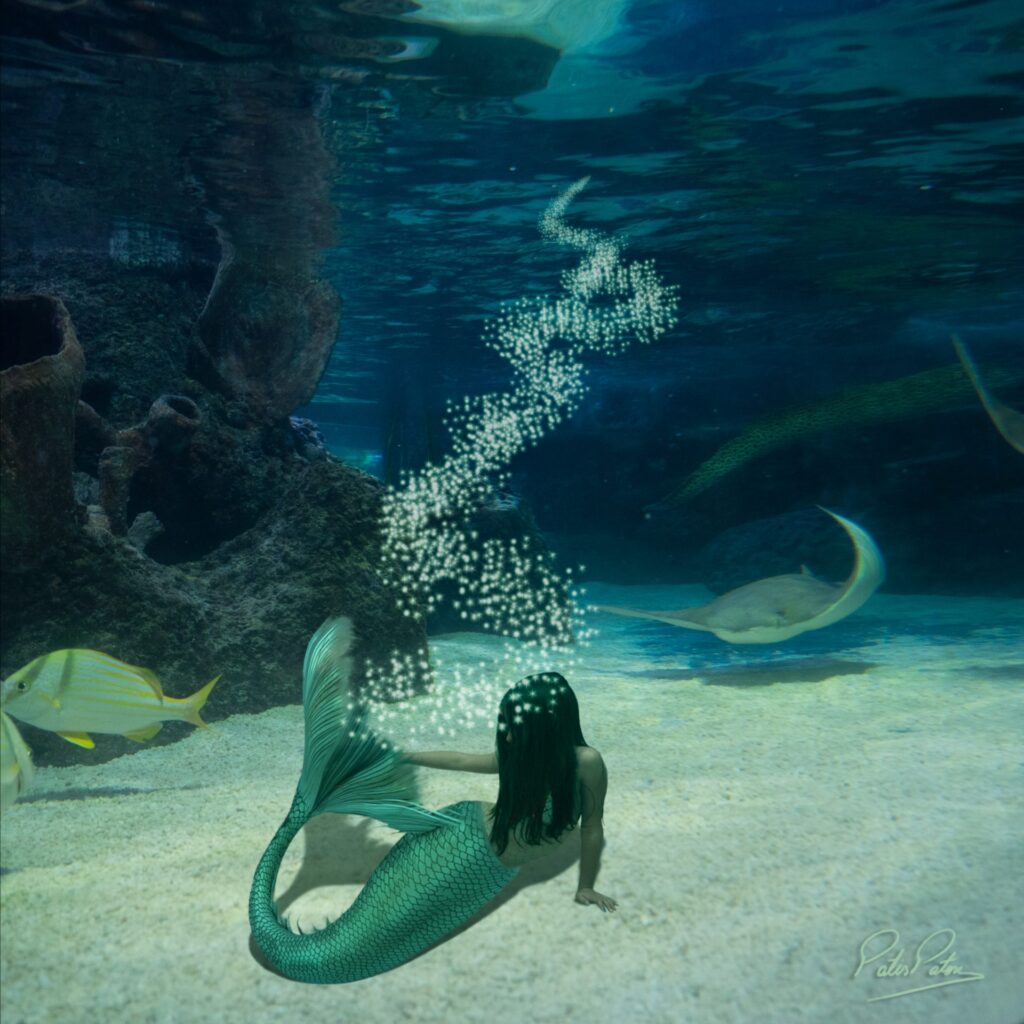 ---
---
You might also like
---