While I lie down quietly thinking about life, I think of humanity and how on earth we are giving away our world. I keep wondering why we are all so greedy. Why we are all wanting so much in our lives and how capitalism took over our own existence, practically. Why do humanity has this intrinsic motivation of self destroying in prol of owning a lot? Is it our irracional crude reality that we are just animals? I agree we had to evolve to a certain extent but did we need to reach where we are now? What strikes me also, is that us humans now are in search for a simpler life.
Have we taken too long to think how we could be living a more peaceful life if we had less? Are the benefits of brain evolution still be valuable? Without it our lives would be much shorter and I couldn't picture myself as a woman from the cave waiting for my hunter. However, I wonder why our steps are backwards. Why our superior intelligence didn't break the self destroying button. One can argue if I would be ready to let go things I've become used to. My answer is no…I am a culprit too, though nowadays I think of living in a quiet country side with not much around as a way of escapism, maybe. I will let you with all these questions and I'd love to hear your opinion! It was with these thoughts in mind and te fact that not long ago it was Earth Day that I've come with this conceptual composite piece I've just created.
How did I come up with the earth disintegration
The first idea that crossed my mind was to have me as a justice balance with the earth disintegrating on one side and a pile of garbage in the other, representing the balance we all now need to have to save ourselves. Then the thought of rescue came along. I switched my idea from this to one where I would be on the surface of a disintegrating earth wanting to be rescued thinking how on earth we are giving away our world.
To create the disintegrating earth I used a brush in a form of spread particles. With a colour layer sitting underneath the earth layer I started brushing the earth using a black mask to hide some of its parts. In another layer, with a colour matching the earth I brushed in different sizes the particles that formed the disintegration. I also created a litter brush and brushed spreadably around the particles. This way I could represent all the litter coming from the disintegrating earth.
With regard to the supportive character I took a self portraiture where I positioned myself with a body expression of help. This would stress the need to be rescued and be taken to a safer place. It was a 'cry' of how on earth we are going away our world.
For the earth, I used one of the chocolates I had that are from a collection of Chocolate Planets. It was very handy indeed! 🙂 To finish it up, I added one of my textured layers representing the wide world out there.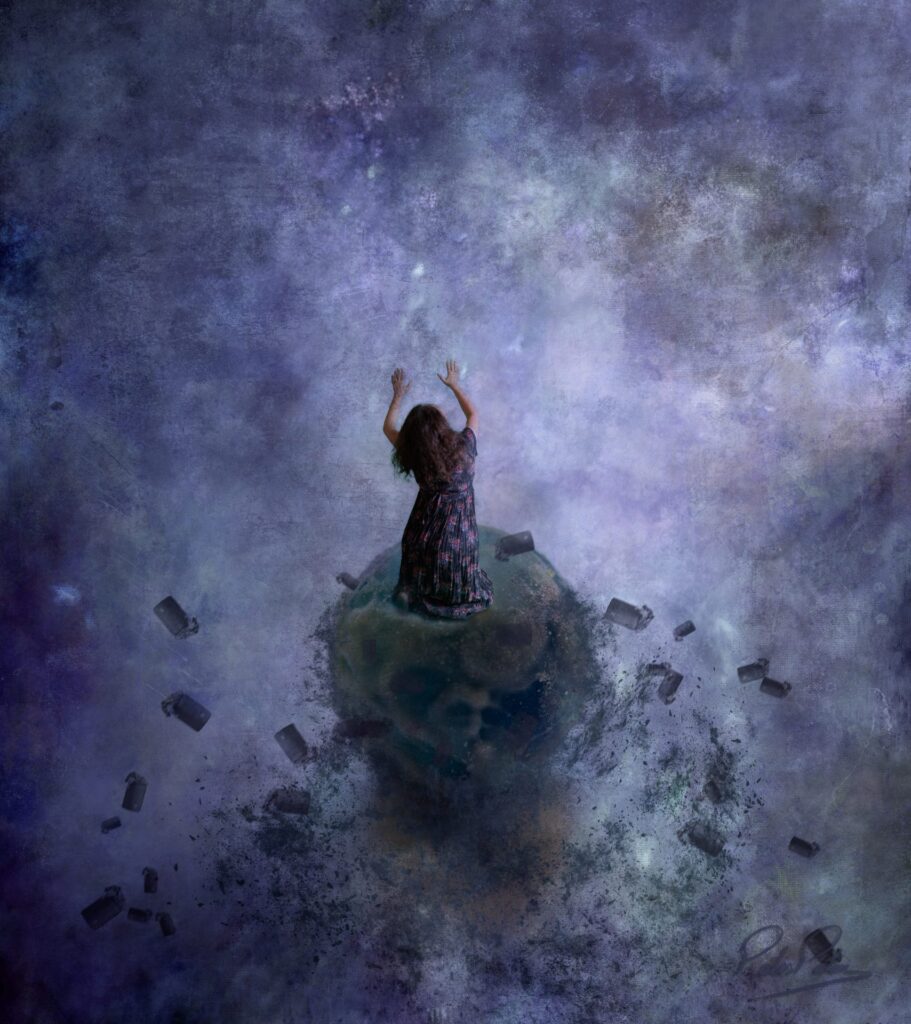 ---
---
You might also like