How I ended up with a painting for Easter was while sitting peacefully hearing the sound of the birds and some thoughts came into my mind. As we are still amid a pandemic after a year, my thoughts are more focused on the value of life than anything else.
My idea for a painting started with eggs as these represent the beginning of life. I wanted to have a flower too, to celebrate the start of Spring. My idea started evolving and I realised I needed a light colour wood table, a beautiful cloth and a nest! The table wasn't a barrier, but the nest was. I would have to go out and collect sticks as an option. However I had an insight and decided to use a wool yarn. Eggs in hand and a beautiful linen cloth, I was ready for shooting.
I arranged the cloth gently in a nice way on the top of the table, rolled the wool yarn as if it was a nest and put the eggs with care inside it and the yellow tulip was added at the side. The image was born. A hand-rendered painting for Easter was the next step. I used customised mixer brushes sampling the layer underneath with different wetness in Photoshop, transforming the table into a bulky background and bellow is the result!
My thoughts for this Easter is that humanity becomes more respectful to Mother Nature. A simpler life focusing on wellbeing values much more than just greediness.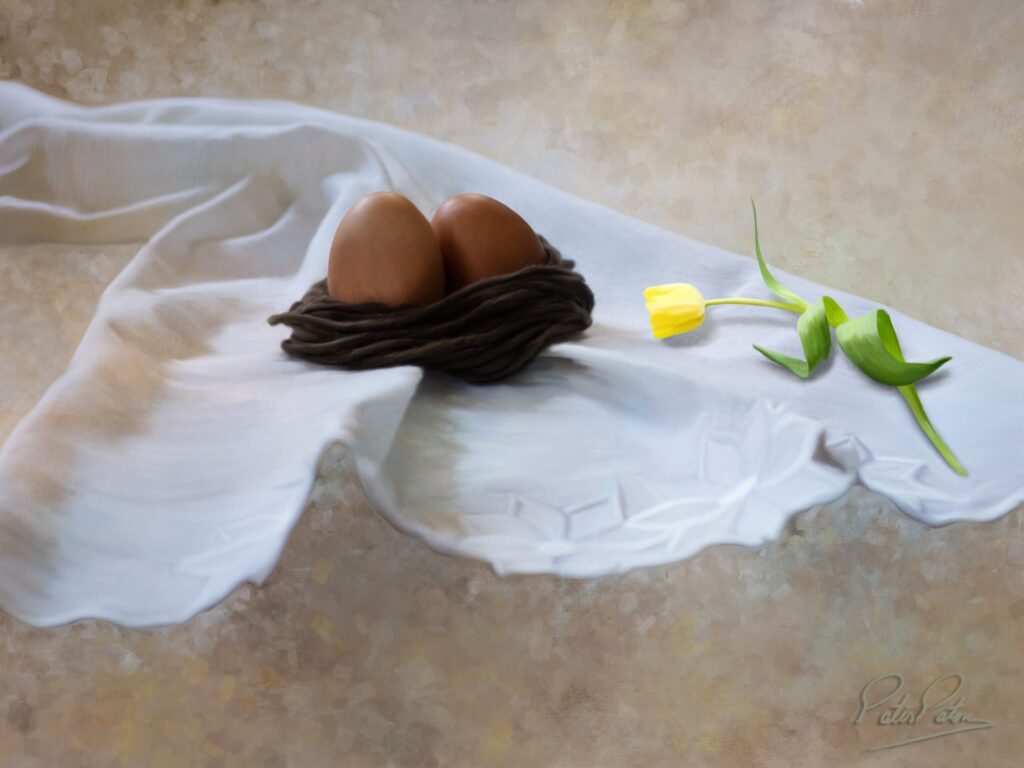 ---
---
You might also like
---