A few days back, I decided to work on changing perspective of elements in a composite. Something simple, straightforward. But does such a thing exist? :-). No and this is a reminder of how creation evolves from a simple exercise.
Process of creation.
My first thought was of a large spider. I would change it from one position to another….it gets worse…I decided to draw it and have multiples of it. But why spiders? How could this have appeared in my mind? Would it be the fact we have been 'locked' for months due to the pandemic and it is as if we were left to grow old apathetic in a careless room?
The spiders fitted well in the environment, so I moved one step forward. A room deserves a shelf with some vines coming out of it and old books. Again, I decided to draw the shelf, a rustic one. The books were piled on top of each other in a strange way that would evoke the idea of abandoning, of no use, of apathy by their owner. In order to complete the shelf, I added a melting ukulele. The reason being must be related to the owner's state of mind. A representation of art neglect.
Where is the owner in this composite? It is when a self portraiture came along. Myself with a vague eye holding an umbrella. One will ask again, why an umbrella? To symbolise the urge to be protected from all the world's threats even being amid four enclosed walls. More specifically in this composite, the spiders….that somehow could be representing something beyond themselves…viruses…pandemy…
However not all in this composite is dark. Above all this creator has a happy inner core. There are rays coming from the right, warming up partly of her soul and whispering that there is light at the end of tunnel.
This is how creation evolves from a simple exercise with elements and ideas immersed in our subconscious that leads to our interpretations. As usual I get mesmerised by the semantics of our minds.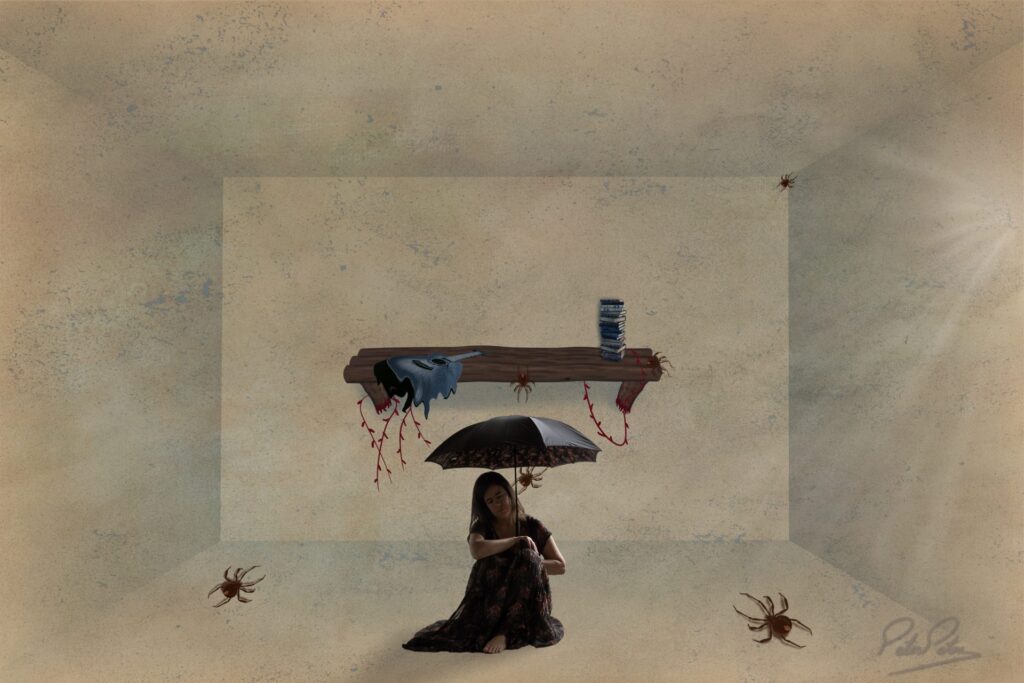 ---
---
You might also like
---